Gum Disease Treatment Near You
Gum disease is characterized by soft tissue damage, specifically the tissues surrounding your teeth. It poses a serious problem to your smile, dental health, and overall general health if it is not treated in a timely fashion.
At our neighborhood dental office, our dentist near you provides reliable treatment for gum disease; if this is something that you're dealing with, please don't hesitate to call us to set up a consultation.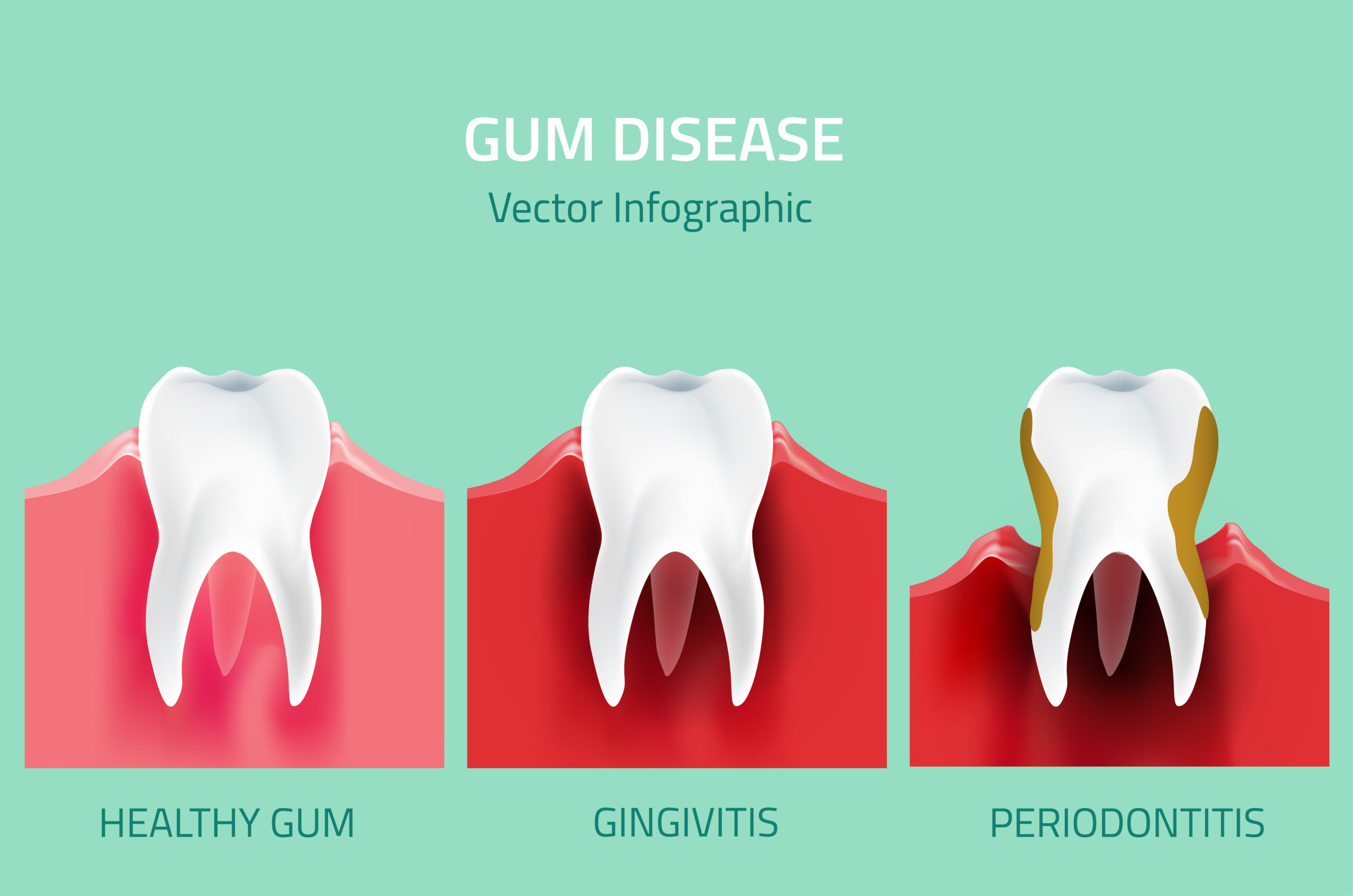 Things to Know
Periodontal disease and periodontitis are two other names for gum disease. There are many signs that can indicate the emergence of this condition, such as the following:
Bleeding gums
Halitosis (bad breath)
Your teeth are feeling loose
Swollen, tender, or inflamed gums
It hurts to bite and chew
Receding gums
Your teeth don't fit together properly
If you're currently dealing with any of things, talk to a dentist in Richmond Hill. They'll invite you to come in for a consultation so they can look at your teeth and gums.
But do know that periodontitis is more common than you might think, and if you dutifully practice good oral health habits, it is indeed preventable.
Stages of Gum Disease
As any dentist near you will tell you, the main stages of gum disease are:
 Gingivitis – This is the beginning stage of the condition; it is also the most treatable. Patients with gingivitis typically experience inflammation due to a large buildup of plaque and tartar. To reverse this, you'll need to visit a dentist in Richmond Hill for a deep cleaning and scaling.
Periodontitis – Untreated gingivitis can become early, moderate, and advanced gum disease. Your tissues will slowly recede, and the chances of bone deterioration and infection increase. Advanced periodontitis often leads to lose teeth or teeth falling out.
Advanced Gum Disease – As the name indicates, this is the most serious stage. Patients experience major bone loss, leading to much damage regarding the appearance and, more importantly, the functionality of their smile. Options for gum disease treatment in Richmond Hill for severe periodontitis can involve dentures or implants.
If you have worries or questions about any of this, let your oral health team know; you deserve to be as comfortable as possible, and our dentist near you will make certain that you have all you need.
Treatment Solutions
To effectively manage the condition, your dentist can perform various measures, depending on the stage you're dealing with. These processes and procedures are outlined below:
 Routine dental cleanings
Deep cleanings
Prescribing antibacterial mouthwash
Oral surgery
Tooth extraction
Laser dental therapy
No matter which service you acquire, you'll need to visit your dentist in Richmond Hill regularly so they can keep an eye on your progress. Integrating good habits like brushing and flossing multiple times a day, not smoking, and eating healthy will also help.
To book a consultation to learn more about gum disease treatment in Richmond Hill, we invite you to call, come in, or email our staff today. We're here to aid you on your journey and make sure you obtain the best smile possible.